Inauguration new Silicon Carbide e-Mobility production line at Hitachi Energy Semiconductors in Lenzbur
Press Release.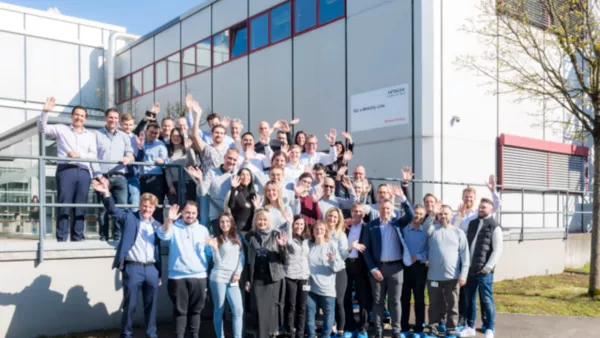 Semiconductors are of vital importance for Hitachi Energy—and, increasingly, the world at large. High-performance, scalable eMobility modules like the RoadPak™ and other Silicon Carbide (SiC) semiconductors produced here offer efficiency gains in the powertrain of electric vehicles (EVs). They drive eMobility applications like e-vehicles and e-buses, which are more in demand than ever following the governmental and global initiatives for renewable and sustainable mobility.
The SiC eMobility line inauguration event honored the different functional teams, whose close collaboration made the production line kickoff possible. It was a memorable moment of team spirit, pride in being a part of Hitachi Energy and great achievement. Niklas Persson, Managing Director of Hitachi Energy's Grid Integration business, and Rainer Käsmaier, Managing Director of Hitachi Energy's Semiconductors , cut the inaugural ribbon and recognized the teams' hard work.
"The most crucial thing is having the right people onsite and the right spirit. This launch is a celebration of this spirit, which is what moves us forward," said Markus Thut, Operations Manager of Hitachi Energy's Semiconductors.
The production line
The SiC eMobility production line project was a collaboration between R&D, production and test engineering, who developed the process and the production technologies together with the product. "It was a holistic collaboration, a great way to realize a mature product that's well designed with a good yield," reflected Thut .
The manufacturing equipment was developed with leading equipment manufacturers and automation suppliers. Plus, a SiC test capability has been developed that provides reliable, repeatable results.
The fully automated production line is an outstanding example of smart manufacturing, and includes fully integrated data systems and new clean room and server infrastructure. Here, Hitachi Energy Semiconductors leveraged their expertise, developed over the last years, in building fully automated power semiconductor manufacturing lines or other high volume products. Basing these innovative manufacturing processes in Lenzburg gives us an important quality advantage.

RoadPak™
The RoadPak™ Silicon Carbide semiconductor is as unique as the production line that makes it.
This compact module sets new benchmarks in EV performance, with state-of-the-art SiC technology that enables faster charging, more reliability over the vehicle's lifetime, and the lowest possible power losses for the longest possible driving range.
Tested by EV manufacturers—and four seasons with the Mahindra Racing Formula E team—RoadPak fits with a range of electric vehicles, from cars, commercial vehicles and buses to agricultural EVs, heavy-duty trucks and high-performance racing cars.
The road ahead
The SiC e-mobility production line continues to develop further, with sustainable, demand-driven investments.
In addition to Hitachi Energy's investment in the production line, the logistics and supply chain is set up accordingly. From the demand side, as one example, Geely Auto, one of the world's largest makers of electric cars, has recently placed a multi-year order with Hitachi Energy for the RoadPak for Geely's ZEEKR, a premium, all-electric brand of long-range luxury cars.
"This is the starting point of a great future – both for this product and our production," said Thut. "The inauguration served as a kickoff for all of the employees involved, motivating them to begin a great endeavor, and maintain that motivation on the road ahead. We're seizing the opportunity for success.